Download Sushi Master on Codecanyon
Download Sushi Master. This App releases on Monday 25th February 2019 By The author OrangeStudioMain on Codecanyon. It's uses with admob,ball,board,endless,game,game center,japan,onigiri,reskin,sushi,unity.

Item Title: Sushi Master
Category: mobile/ios/games
Price: $29
Author: OrangeStudioMain
Published Date: Monday 25th February 2019 08:13:09 AM

More Info / DownloadLive Demo

Game for iOS based on Unity 3D engine.
It's endless type game, you need move the board to hit ball, breaking bricks. Do not let the bricks touch ground and board. Every time speed increase, keep your mind.
Game has AdMob ad's. Banner and interstitial.
GameCenter support. Has sharing function. Easy to edit and reskin.
Unity project. Scripts write on C#. Project has documentation.
Requirement: – For launch project and edit it Unity 2018.1.5f1. – For launch Xcode build 9.4.1. – For launch competed game iOS 8.0 or higher.
More Info / DownloadLive Demo
#Sushi #Master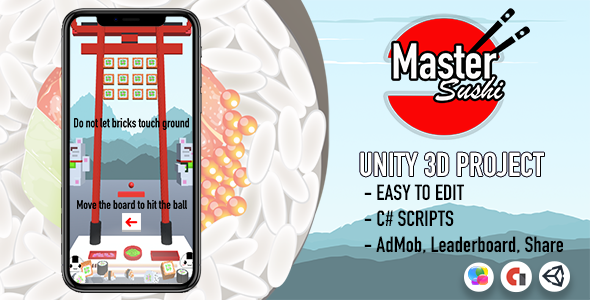 Download Sushi Master on Codecanyon