Download Original Retro Opener After Effects project on videohive
Download Original Retro Opener. The project releases on Friday 22nd April 2022 By The writer TranSMaxX on videohive. It's Tagged with 80s,90s,activation code,city typography,fashion id 90,fashion opener,flash sale,grunge intro,hip hop,hippie,hippy,identical,instagram,intro,lifestyle,marketing,minimal,modern,modern slideshow,neon,new age,new arrivals,new style,party,photo,promocode,promotion,quick,retro,rhythmic,showreel,simple,smart,special offer,sport,stomp,street,tik tok,title,trend,trend opener,trendy slide,typographic,typography,upbeat,upwear,vlog,windows 3,youtube blog,youtube opener.
Project Title: Original Retro Opener
Category: after-effects-project-files/openers/retro
Price: $19
Creator: TranSMaxX
Publish Date: Friday 22nd April 2022 05:25:25 AM

| Create video promo or demo reel in retro hippy style of 70s effects, funny titles and bright colors.
Original Retro Opener
Use your own photos or video, type your titles and place this clip on video display into your boutique or shop.
Make dynamic and fashion style intro or video blog channel opener or promo with grunge and glitch effects! Is perfect for urban opener, tv show, new street trends or flash sale slideshow or any media opener. Even special events. You can use images instead of videos. Very simple and well-organized project.
You can easily change the colors in just one simple step. Changing text, drop your media, audio and hit render. Fast rendering project. You don't need any Advance knowledge of After Effects in order to use this project. Even if you never worked with the After Affects you can watch the help file and complete the job
Original Retro Opener is a high quality, well organized and easy customizing template. Just drop your image or video, edit the text, add audio and enjoy the result!
Main Features
Adobe After Effects CC 2013…CC 2022 or higher software needed
1080p (1920×1080) resolution / 25 frames per second
45 seconds total duration
12 placeholders for media (photo or video)
24 placements for titles
Very Easy to customize / Modular structure / 100% After Effect
Amazing Fast Render !!!
Fonts – not included – (links inside PDF description)
Music Link – The Upbeat Retro Funk
Video Links
Houses On A Residential Community In Hounslow London
People Walking in a Protest March Chanting Black Lives Matter
Aerial Footage Of A City Street In A Business District
Protestors with Placards Chanting Black Live Matters


Hi, again. Thank you very much for bought our projects! Please check another templates in different style we made especially for you. We hope you will be really surprised!
More Info / Download
#Original #Retro #Opener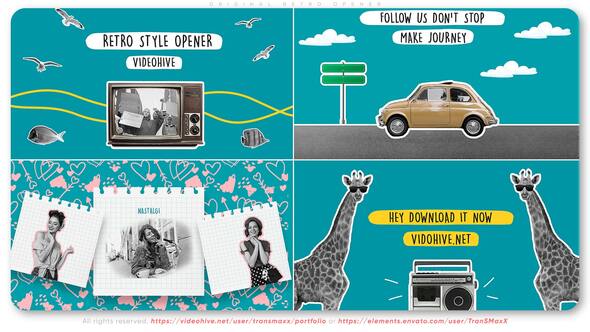 Download Original Retro Opener After Effects project on videohive