Download Bindlex IPs Country Search & Finder on Codecanyon
Download Bindlex IPs Country Search & Finder. This App releases on Sunday 19th April 2020 By The author Bindlex on Codecanyon. It's uses with cities ip search,find ip ips,find ip location,find ips from countries,ip city finder,ip country finder,ip find tool.

Item Title: Bindlex IPs Country Search & Finder
Category: apps/windows
Price: $300
Author: Bindlex
Published Date: Sunday 19th April 2020 02:00:50 PM

More Info / DownloadLive Demo

Bindlex IPs Country Search & Finder
This tool is intended to extract details about the location of an IP or to find IPs from a specific location.
1) Extract details from a list of IPs.
With this option the program can give you information about the country, city or ISP of an IP. These details can be saved in the end in a .txt format.
2) Find IPs from a list of locations.
With this option you can add to a text list certain locations, cities or ISPs and you can find IPs that coincide with these details.
Execution time is higher if you want to find more ip (> 100). You can choose an unlimited number of IPs and you have the option to start the search from a particular IP.
Why you should buy?
This tool is designed to be constantly improved and to have multiple purposes related to IPs & details about that. In the future, new features and functions will be implemented and improved to get rid of the big expenses for unnecessary products and services.


More Info / DownloadLive Demo
#Bindlex #IPs #Country #Search #Finder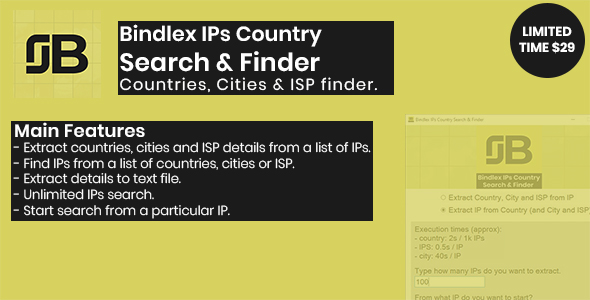 Download Bindlex IPs Country Search & Finder on Codecanyon